At Peak Window Coverings, we are dedicated to assisting you in choosing the right window coverings to fit your style, décor, and budget. Our ultimate goal is to ensure you are completely satisfied with your window coverings, from their style to their function, and in knowing that we are there when you need them serviced. We believe you will be pleased with our personalized service, convenience and exceptional products.
[it-rotate group="0″]
Peak Window Coverings is the most comprehensive and trusted window coverings dealer in the greater Colorado Springs area since 1998. We have sold, installed, cleaned and repaired literally tens of thousands of blinds, and are proud to say that the majority of our business is repeat and referral. In fact, we are the only local company to offer the complete range of window covering services.
From buying your blinds, shades or shutters, to their maintenance after the sale, we've got you covered.  Also, you can rest assured in knowing that we carry liability insurance, and we are an Accredited Business with the Better Business Bureau with an A+ rating.
_________________________________________________________________________________
SCHEDULING FOR SALES OR SERVICE
If you want an estimate for new Blinds, Shades or Shutters.  Please call to schedule an in home/office appointment.  If you'd like to visit our shop/showroom, please call ahead to make sure a salesman is available.
For ultrasonic blind cleaning or repair, you can drop off your blinds or shades anytime during the hours listed below.  If you need an in-home appointment, please call to schedule.  (719) 262-0626
___________________________________________________________
THE REALITY OF THE WINDOW COVERING BUSINESS
As a consumer, you should know that all blinds are not created equal. Be careful to compare apples to apples when shopping for your blinds, shades or shutters. At Peak Window Coverings, we sell everything from budget to high end products, at competitive prices. We are diligent to explain the difference between the various brands as they relate to YOUR needs.
We didn't get where we are by gimmicks and trickery. Unfortunately, in our business, there are companies that do just that. One example of this is companies who advertise that everything is free. Free installation, free measuring, and free delivery…the list goes on and on. But, just like our parents told us, nothing is free. Free is "code" for included in the price.
We refuse to play games with our customers, or insult their intelligence with gimmicks. We've built our reputation on simple straight forward business practices, and we intend to keep it that way.
So, whether you currently have blinds or shades, or you're in the market for any type of window covering, let us know. We'll be happy to assist you.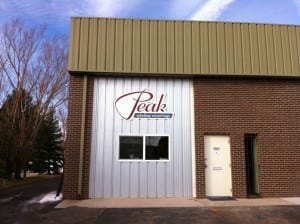 Our Showroom:
1950 Victor Place #100 Colorado Springs, CO 80915
Current Shop Hours:

 
Monday thru Friday  –  8AM – 4PM
Saturday  –                   8AM – 12 Noon
                         -OR – 
Call for Appointment – (719) 262-0626