We specialize in the most comprehensive Blind, Shades, and Shutters care in the Colorado Springs area. If you're in need of cleaning or repairs, don't hesitate to contact us to schedule an appointment. We look forward to serving you with your window covering needs.
Take a look at the services we offer below.
[mpc_vc_deco_header type="h3″ align="center" text="Ultrasonic Blind Cleaning"]
Our ultrasonic blind cleaning system causes super energy-driven sound waves to create millions of tiny bubbles, which implode on impact. These bubbles impregnate all parts of the blind or shade, gently cleaning all the hard to reach areas. In other words, the ENTIRE blind gets clean, vanes, ladders, cords, and mechanisms. This highly efficient method eliminates the possibility of damage caused by old-fashioned hand scrubbing. After the blind is cleaned, it is put through our anti-static rinse, which reduces the re-accumulation of dust, dirt and other impurities.
No other process will do this!
We Offer:
Convenient customer drop off – at our shop
Pick up blinds and deliver them back to you
Serving the greater Colorado Springs area
Same day service available by appointment
Blind repairs
We Clean:
Aluminum Blinds
Faux Wood Blinds
Honeycomb & Cellular Shades
Verticals (Fabric & Vinyl)
Silhouettes
You purchased your window coverings to add beauty, protection and privacy to your windows. Don't let dirt, bacteria, and grime destroy your investment. Waiting too long can cause deterioration and permanent staining. Get your blinds and shades cleaned professionally at least once per year.
[mpc_vc_deco_header type="h3″ align="center" text="Window Covering Repair"]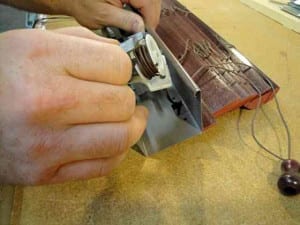 At Peak Window Coverings, we're here to assist you when your window coverings need repair. We repair most types of blinds, shades, and shutter from all major manufactures. Whether you purchased your window coverings from us or not, we are here to help you keep them in top shape.
REPAIRS OFFERED
Blind & shade re-cording
Re-laddering
Replacing tilt gears & cord locks
Cord loop replacement
Blind & shade cut-downs/shortening
Drop-off at our shop, or on-site service available by appointment
Whatever your repair need, please call us. As experts in this field, we are committed to give you honest advice on long-term maintenance and functionality with regards to various brands. In the event your product is not worth fixing or is obsolete, we can help you replace it.
[mpc_vc_deco_header type="h4″ text="Brands We Service"][mpc_vc_images_slider images="4033,223497,223499,4027,4028,4029,4030,4031,4032″ speed="3000″ brands="1″ single="1″]