Sliding Panel Shades are an excellent choice for sliding doors and large windows.  They utilize the many fabric choices used in roller and roman shades, and can be coordinated with them as well.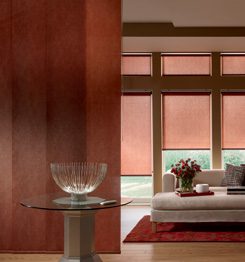 Sliding Panels are a modern and functional way to create a harmony of style in any space. The sleek aluminum track system lets you choose the number of tracks based on the needs of your space, automatically sizing the panels (narrower or wider) based on the selection. They also make excellent room dividers.
A decorative cornice/valance can be added for a truly finished look.
All Sliding Panel Shades carry a Limited Lifetime Warranty.
Colorado Springs Sliding Panels