Silhouette Window Shades are the perfect way to provide soft light, elegant styling, and complete privacy to any room. Unites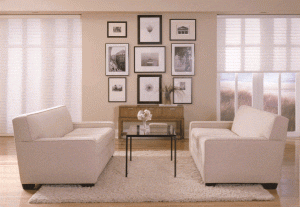 draperies, shades and blinds into one exquisite and stylish window shading design. The shading is made of sheer front and back facings, with fabric vanes suspended between them. Open the fabric vanes, and watch your room fill with a warm, brilliant glow. Close them, and the light becomes more subdued. Or tilt the fabric vanes anywhere in between, and you can treat yourself to any level of illumination desired.
Soft 2″, 3″ or 4" vanes in several fabric styles
Precision hardware system ensures lasting smooth and quiet operation
Continuous cord loop lifting system provides smooth operation
Motorization option for high windows
Fabric covered head rail option
The fabric is anti-static as well as stain resistant and will maintain a like-new appearance
Specialty shapes available
All Silhouette Shades carry a Limited Lifetime Warranty.
Colorado Springs Silhouette Window Shadings